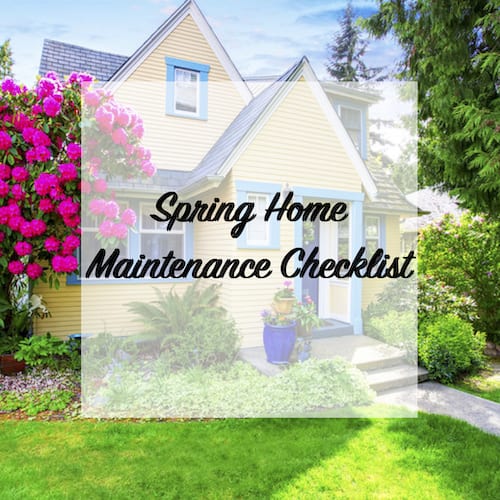 Keeping your home in top shape requires year-round care. While each season brings different tasks and challenges for homeowners, spring is an especially important time – it's when to assess winter wear and prepare for summer.
Many big home repairs start out small but, left unattended, become more costly problems. By taking care of little issues now, you can save yourself a lot of money and stress in the long run. Keeping a list of what needs to be done, and when, can help you to avoid and prevent the most common household problems.
Many of the necessary tasks are probably easy enough for you to take care of yourself. However, if you don't feel comfortable or don't have the proper equipment, consider hiring a qualified contractor to help you.
Inspect the roof. Shingles that curl (turn up) and claw (turn down) can make your roof inefficient and susceptible to leaking. Check around vents, skylights, and chimneys for leaks and repair as necessary.
Don't forget to check your roof from the inside too. Look in the attic for any signs of moisture or surface discoloration on the underside of the roof that may point to leakage from above or air leaks coming from your house.
Repair leaks. Before rainy spring weather hits, check to make sure you don't have any leaks, especially in a basement or attic. Double-check your door and window seals, too, in case they might need a fresh coat of caulk or new weather-stripping.
Clean gutters and drain pipes so leaves won't clog them and be sure they drain away from the house. Drain outside faucets.
Chimneys. If you have a masonry chimney, check the joints between bricks or stones. Have any fallen out? Is there vegetation growing out of them? Each signals water infiltration. Also, look for efflorescence which is a white calcium-like deposit that indicates your masonry joints are no longer repelling water but absorbing it. Consider re-sealing masonry with clear, impermeable or water-resistant barrier material (like Thoroseal products). Brush it on, small areas at a time; let it absorb for 15 minutes, then reapply—it may need a couple of applications.
Clean siding with a pressure washer to keep mold from growing. Check all wood surfaces for weathering and paint failure. If the wood is showing through, sand the immediate area and apply a primer coat before painting. If the paint is peeling, scrape loose paint and sand smooth before painting. Replace rotted siding or trim.
Check foundation walls, floors, concrete, and masonry for cracking, heaving, or deterioration. If you see large cracks or a significant number of bricks losing their mortar, call a professional.
Inspect trees for broken branches. If the broken limb is high up, hire a licensed arborist. If you can reach it from the ground, take it down using the three-cut technique, which prevents bark from tearing and creating an open wound on the trunk.
Seal cracks on the driveway and paths before weeds take up residence. Home centers sell patching materials and fillers designed for asphalt and concrete surfaces.
Spring is also a great time to clean your windows, screens, and hardware and replace storm windows with screens. Check your screens for holes or tears first and repair or replace them if needed. Examine putty/caulk lines around exterior windows and doors and ensure weather stripping creates a good seal.
Check all decks, patios, porches, stairs, and railings for loose members and deterioration. Open decks and wood fences need to be treated every four to six years, depending on how much exposure they get to sun and rain. If the stain doesn't look like it should, or water has turned some of the wood a dark gray, hire a professional to treat your deck and fence.
Prune landscaping and create good drainage. Shrubs and landscaping help against soil erosion, but should be planted to form a negative grade, which means water will flow away from the house. You don't want growth up against the foundation of the home itself.
Inside the house:
When it's warm enough outside, turn off your gas fireplace pilot lights where possible.
Carry out the manufacturer's recommended maintenance for your air conditioning system and ventilation equipment. Be sure to consult your owner's manual for cleaning instructions or hire a qualified contractor.
Check your smoke, carbon monoxide and security alarms and replace the batteries.
Reopen any valves for outside hose bibs that were shut off last fall.